About Elements
为了美好的未来,
传播支撑社会的科技
TANAKA是"贵金属"的专家,为世界提供创造"社会价值"的"制造"。
"Elements"是主要提供符合我们的业务及价值观的有关"科技"和"可持续发展"
等方面信息的网络媒体。
在急速发生范式转换的现代,我们将不断传播促进实现更加美好的"社会"和富饶"地球"的未来的启示。
The Challenges of TANAKA Precious Metals : Episode 1
– Strategy for Rapid Expansion in Automobiles and Semiconductors –
(1)World's leading fuel cell catalyst
February 18, 2021, Electronic Device Industry News
New catalyst using electrolyte film has four times higher durability
On January 14, 2020, TANAKA Kikinzoku Kogyo successfully developed a world's first extraordinary material. The company successfully developed a platinum-cobalt alloy hydrogen electrode catalyst that substantially reduces the deterioration of fuel cells. This outstanding material reduces by more than half the generation of hydrogen peroxide, which causes electrolyte degradation in the hydrogen electrodes of polymer electrolyte fuel cells.
The achievement was announced by TANAKA Kikinzoku Kogyo, the New Energy and Industrial Technology Development Organization (NEDO), and the University of Yamanashi. By incorporating this catalyst in fuel cells, the durability of electrolyte films can be increased by four times or more compared to using commercially available platinum hydrogen catalysts. Of course, this new development was conducted with the intention of contributing to the rapid popularization of fuel cell vehicles.
Mr. Toru Shoji, Director & Managing Corporate Officer of TANAKA Kikinzoku Kogyo and President of the Global Marketing/R&D Division, says, "Thankfully, fuel cell electrode catalysts supplied by TANAKA hold a top share in the global market. We invested 4 billion yen to build a 3,000 ㎡ manufacturing and shipping building and warehouse building next to the FC Catalyst Development Center located in the Shonan Plant and increased production capacity by about seven times. These facilities are already in full-scale operation."
Mr. Shoji graduated from Chiba Prefectural Kimitsu High School and the Department of Metallurgical Engineering, Chiba Institute of Technology and then began working for TANAKA Kikinzoku Kogyo. The topic of his graduation thesis was "study on improvement of the creep fracture resistance of aircraft aluminum alloys."
After joining TANAKA Kikinzoku Kogyo, Mr. Shoji worked in the development of technologies including continuous casting technology for gold alloy fine wire, combustion catalysts, environmental catalysts, diesel exhaust gas purification catalyst systems, and three-way catalysts for automotive exhaust gas purification. The Mr. Shoji's personal slogan is "There are no answers in sales but there are answers in technology." In other words, no matter what your supervisor says, there is truth in technology.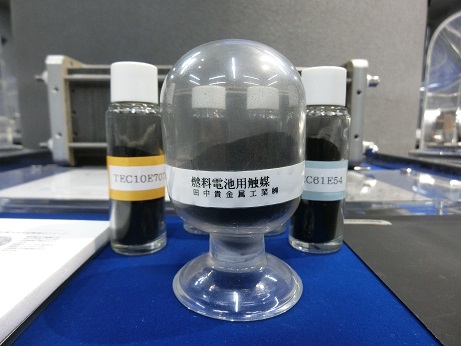 Fuel cell catalyst with top global market share
Discussions about next-generation eco-friendly vehicles are heating up with the global expansion of the SDGs. Furthermore, the shift toward EVs is accelerating at a tremendous pace. Although the mainstream of eco-friendly vehicles is HVs, the EV boom is increasing rapidly.
However, most experts believe that the probable winner of next-generation eco-friendly vehicles will be "fuel cell vehicles." That is because EVs are able to function only when a large amount of electricity is generated and they are not the ultimate form of an eco-friendly vehicle. Fuel cell vehicles run on electricity generated by the chemical reaction of hydrogen and oxygen. Only water is discharged during driving and no CO2 is emitted. They are referred to as complete zero-emission vehicles.
The issue, however, is cost. There is a high level of interest in how to create reasonably-priced and high-quality hydrogen. Also, many hydrogen stations must be built. Toyota Motor announced the Mirai, the world's first mass-produced fuel cell vehicle in 2014, and it has been improving the vehicle ever since. Toyota is likely the global leader in the technical advancement of fuel cell vehicles. Honda also has announced a sedan-type fuel cell vehicle. South Korea's Hyundai Motor declared that it will bring fuel cell vehicles to market at once. Nissan has agreed to jointly develop fuel cell vehicles with Daimler and Ford, while BMW and Toyota have a partnership for developing the basic systems of fuel cells.
Most importantly, China, which had been announcing the rapid popularization of EVs, has stated that large subsidies will be provided for fuel cell vehicles. The authorities believe that fuel cell vehicles are preferred for highway buses and trucks. The bottom line is that there is a growing push for fuel cells across the globe.
TANAKA has been focused on fuel cell vehicles for some time. Fuel cell catalysts manufactured by TANAKA are used in fuel cell vehicles as well as household fuel cells. The company has been continuously making corporate efforts to achieve a hydrogen energy society.
"NEDO held the FCV Issue Information-Sharing Forum with Toyota Motor and Honda R&D in January 2019. As expected, one issue that was raised in this forum was about the chemical degradation of polymer electrolyte films in polymer electrolyte fuel cells. The solution for this is the development of a platinum-cobalt alloy hydrogen electrode catalyst. Furthermore, the volume synthesis of a platinum-cobalt alloy nanoparticle carbon catalyst was achieved with the prototype catalyst. We plan to accelerate R&D using this new catalyst," said Mr. Shoji.
Reinforcement of FC catalyst production capacity and new base in India
TANAKA Kikinzoku (India) Private Limited was established in Mumbai, India at the end of 2019 as a new base for sales strategies in India, the Middle East, and Africa. Its main objective is to meet the demands of the automotive catalyst, semiconductor, and hydrogen energy markets. We need to keep a close eye on the future activities of TANAKA Precious Metals, which has started to build bridges to connect Japan, China, and India in the field of fuel cell catalysts.
(Wataru Izumiya, Special editorial board member)
■Related Information
Products Information > Electrode Catalyst for Polymer Electrolyte Fuel Cells (PEFCs) / Polymer Electrolyte Membrane Water Electrolysis (PEMWE)