About Elements
为了美好的未来,
传播支撑社会的科技
TANAKA是"贵金属"的专家,为世界提供创造"社会价值"的"制造"。
"Elements"是主要提供符合我们的业务及价值观的有关"科技"和"可持续发展"
等方面信息的网络媒体。
在急速发生范式转换的现代,我们将不断传播促进实现更加美好的"社会"和富饶"地球"的未来的启示。
Palladium Leading the Platinum-group Metals Market and Beyond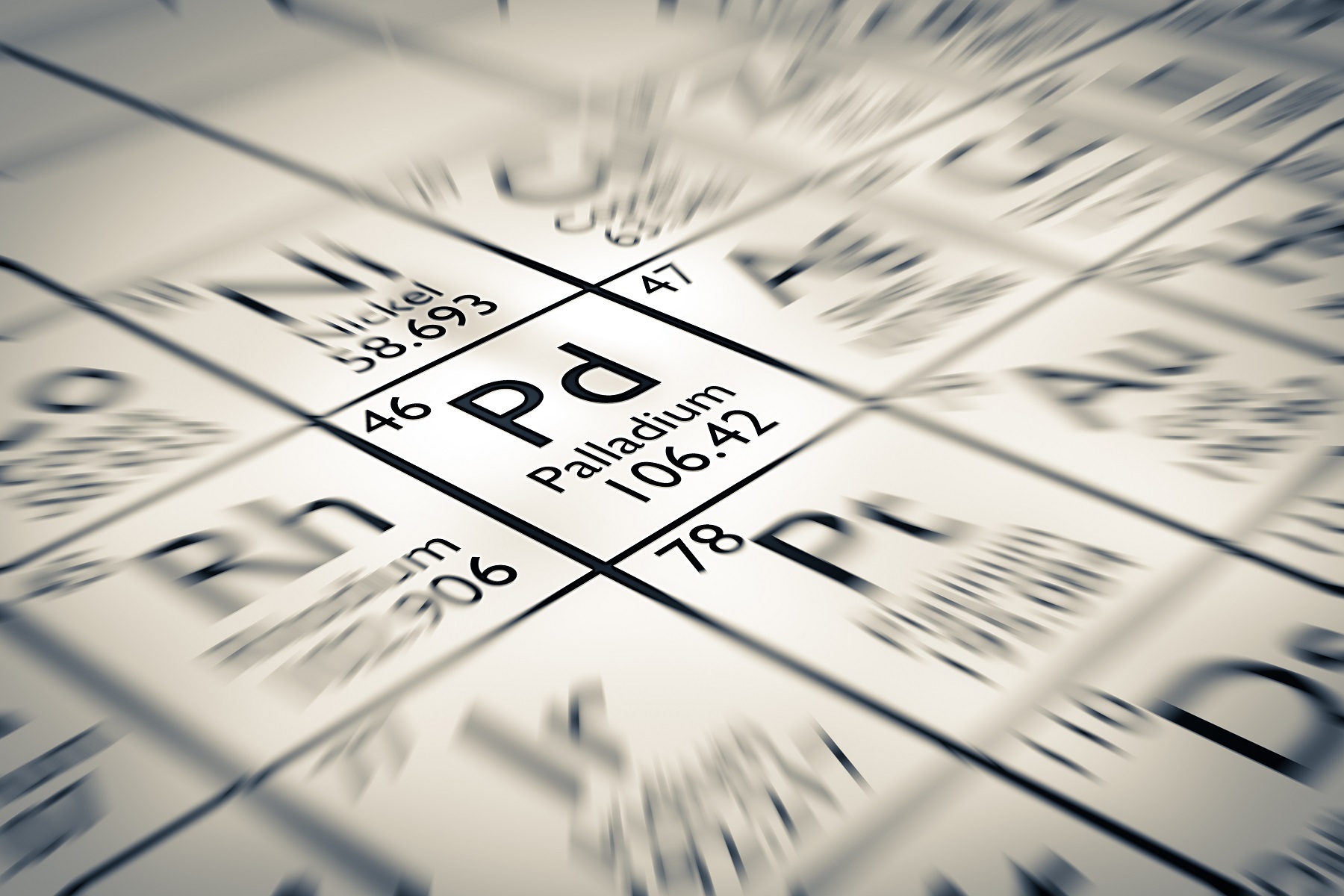 Palladium's strong fundamentals lead the pack for platinum-group metals.
Platinum-group metals (PGMs) are six similar transitional metals that include palladium, platinum, rhodium, ruthenium, iridium and osmium. Each has similar physical and chemical properties to the others in the group, and they tend to occur together in the same deposits.
Classified as rare precious metals, PGMs have significant industrial applications, most notably in the manufacturing of catalytic converters in vehicles. While the group's headliner is platinum, it is its sister metal, palladium, that's been the best market performer over the past decade.
In fact, according to Bloomberg & US Global Research, between 2008 and 2017 palladium was the best performing of all commodities. Market trends for both palladium and platinum have been positive the past few years. "The use of platinum in industrial applications set a new record in 2017," according to a recent report by Johnson Matthey (LSE:JMAT).
This INNspired Article is brought to you by:
New Age Metals Inc. (TSXV:NAM; OTCQB:NMTLF; FSE:P7J.F) is a green metals exploration company currently developing its flagship River Valley platinum group metals (PGM) property in Sudbury, Ontario, Canada.Send me an Investor Kit
But it is palladium that really shines. "Automotive demand for palladium is predicted to grow by around 2 [percent] in 2018, setting a new all-time high of 8.57 million ounces." Long-term, demand for PGMs is expected to remain robust, particularly for palladium. Today's palladium supply is sourced mainly as a by-product, with more than three-quarters of global production coming from Russia and South Africa.
Supply concentrated mainly in South Africa and Russia
Palladium, platinum and the rest of the PGMs family rarely occur outside of nickel and copper mineralization. "Mineable deposits of PGMs are very rare in the Earth's crust," according to the International Platinum Group Metals Association (IPA), hence why the majority of the world's supply of these metals comes by way of by-products. In fact, about 33 percent of global PGMs production originates from primary nickel mines.
The IPA reports that South Africa and Russia account for 58 percent and 26 percent of global PGMs production, respectively, while the US, Canada and Zimbabwe account for most of the remainder. Russia's number-one producer is Norlisk Nickel (OTCMKTS:NILSY), while Anglo American Platinum (JSE:AMS) reigns in South Africa. Glencore (LSE:GLEN) and Vale (NYSE:VALE) dominate in North America, particularly in the prolific Sudbury jurisdiction of Ontario. There are only two primary producing palladium mines: the Stillwater Complex (Sibanye-Stillwater (NYSE:SBGL)) in Montana, and the Lac des lles mine (North American Palladium (TSX:PDL)) in Ontario, Canada.
Russia and North America's deposits are generally high in palladium, while the South African and Zimbabwean deposits are high in platinum. "Primary and secondary production of PGMs create large revenues and thereby contribute greatly to the economic growth and wealth of the countries where the metals are mined and processed," as per the IPA. However, the limited geographic concentration of PGMs-producing regions across the globe makes this market highly susceptible to supply disruptions.
Global palladium supply levels took a slight hit in 2017 from some shaft closures and technical issues at key mines in South Africa, lower nickel and copper production out of Glencore and Vale's North American operations and lower shipments out of Russia. In fact, the market saw a deficit of more than 800,000 ounces last year, boosting prices.
Russia and North America's PGMs-containing deposits have much higher concentrations of palladium than their African counterparts, making those regions key suppliers for the market's current demand. By-product palladium output from Canadian nickel mining is expected to take a hit as PGMs grades in Sudbury ore decline and deposits are exhausted, leaving catalytic converter manufacturers looking for new sources of supply. However, there are few PGMs-hosting projects on the map.
"The PGMs market is facing a deficit that isn't likely to be resolved anytime soon," said Harry Barr, chairman and CEO of New Age Metals (TSXV:NAM,OTCQB:NMTLF,FWB:P7J.F). "The world's producing mines aren't capable of increasing production to meet demand and the aboveground stockpiles which typically fill the gap are quite low if not entirely depleted." New Age Metals is developing the River Valley PGMs property in Sudbury, Ontario. The project is considered the largest undeveloped primary PGMs deposit in North America.
Diverse range of industrial uses
As industrial metals, platinum and palladium are used across a broad range of industries, including chemical, electrical, glass and medical. In their double role as precious metals, the two are also in high demand from the jewelry and investment markets.
Research firm Johnson Matthey reported that in 2017 the use of platinum and palladium in industrial applications reached record levels, buoyed by demand from the glass and chemical sectors. "The 'Made in China 2025' initiative — designed to reduce the country's reliance on imports of chemical feedstocks — has stimulated massive investment in large new facilities integrating crude oil refining with downstream petrochemicals production, which are expected to come on stream over the next two to three years," says Johnson Matthey in its May 2018 report on the PGMs market.
These projects are expected to require significant amounts of platinum and palladium, which are excellent catalysts for chemical reactions. In 2017, chemical producers bought more than half a million ounces of platinum for the fourth time in five years. Palladium was also highly favored by the chemicals sector, with purchases from producers up 28 percent. Growth in this sector is expected to continue supporting PGMs demand throughout 2018.
Demand for platinum from the glass-making sector was up by almost 50 percent in 2017 on new developments in the fiberglass segment of the market. Fiber-reinforced plastics are playing a larger role in several applications in vehicle and wind turbine fabrication, as well as construction. Further gains from the glass market are expected in 2018 as demand from display-glass manufacturers is predicted to reach a seven-year high.
Primary market: Vehicle catalytic converters
The primary market for platinum and palladium is in vehicle catalytic converters — the part of the car that converts harmful gases produced by hydrocarbon emissions into less-harmful substances. "Roughly 80 percent of palladium and 40 percent of platinum ends up in catalytic converters," the Investing News Network has reported. "The catalytic converter market is set to grow at a CAGR of 8.05 percent from 2017 to 2021 and is seen reaching a market size of $55.16 billion."
Global demand for catalytic converters is driven by the increasing number of vehicles on the road worldwide, alongside increasing government-imposed mandates aimed at reducing vehicular pollution. Catalytic converters — and the metals that make them — are still expected to have a role in the automobile market as the industry transitions to electric vehicles, as they will be necessary components for hybrid vehicles.
Global demand for PGMs in catalytic converters for the heavy-duty vehicles segment is forecast to rise by 60 percent in 2018, according to Johnson Matthey, with rapid growth projected over the next three years on rising demand from China and India.
Palladium has better thermal stability than platinum and can withstand the temperatures of gasoline exhaust. Palladium is more widely used in the catalytic converter market for gasoline-powered cars, while platinum is the go-to metal for the diesel-fueled vehicle market. Demand for diesel-powered vehicles has been shrinking, decreasing platinum demand from the catalytic converter market.
Demand for palladium from the global catalytic converter market reached a record high of 8.39 million ounces in 2017, compared to 3.29 million ounces for platinum. According to Johnson Matthey analyst predictions, demand for palladium from this sector will expand by 2 percent in 2018 to reach another record high of 8.57 million ounces, compared 3.18 million ounces for platinum.
Conclusion
Platinum may have been long recognized as the head of the PGMs family, but it's palladium that's now leading the way. The contrasting markets for these two metals — palladium's strong fundamentals and platinum's lagging performance — are expected to diverge further throughout 2018. As evidenced by its stellar performance in the past decade, palladium doesn't just rule the roost in its own family, but is also leading the pack against many of the world's hottest commodities.
Investors can expect a significant supply deficit for palladium on decreasing aboveground stocks and increasingly robust demand across a wide variety of industrial applications for the metal, specifically in the automotive industry. The concentration of the majority of palladium production into only a few regions places a great deal of emphasis on the need for a more diverse geographic supply.
This INNspired article is sponsored by New Age Metals (TSXV:NAM,OTCQB:NMTLF,FWB:P7J.F). This article was written according to INN editorial standards to educate investors.
This article was from Investing News Network and was legally licensed through the NewsCred publisher network. Please direct all licensing questions to legal@newscred.com.