About Elements
为了美好的未来,
传播支撑社会的科技
TANAKA是"贵金属"的专家,为世界提供创造"社会价值"的"制造"。
"Elements"是主要提供符合我们的业务及价值观的有关"科技"和"可持续发展"
等方面信息的网络媒体。
在急速发生范式转换的现代,我们将不断传播促进实现更加美好的"社会"和富饶"地球"的未来的启示。
Wearable device is a futurist doctor's 'stethoscope'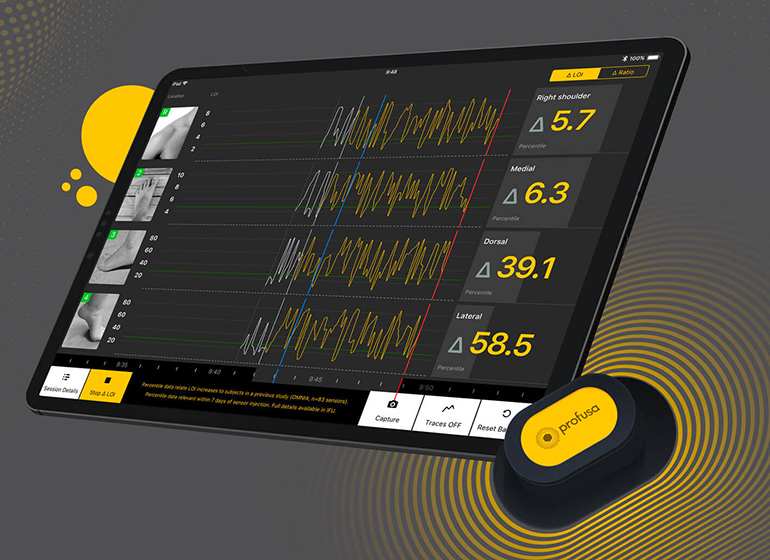 Reinvently, a mobile app development company based in Palo Alto, California, has created a number of healthcare apps, including those which collect, collate, and display data from wearable medical devices. The combination of a wearable device and a mobile app allows clinicians to monitor their patients in real-time and identify issues before they become a problem.
This approach is becoming increasingly popular, but in many cases, wearables are only as good as the software that accompanies them. Healthcare monitoring requires reliable and user-friendly apps that clearly display key data and alert users to issues as soon as they are identified. Bugs or glitches could have serious consequences when the apps indicate a patient's wellbeing and determine treatment.
So far, the company has been the force behind some influential health monitoring apps. For instance, Reinvently developed the app that accompanies the Lumee Oxygen Platform from Profusa. The system allows clinicians to continuously monitor tissue oxygen levels in real time using the app, and is useful for monitoring at-risk tissues in conditions such as critical limb ischemia.
Other apps developed by the company include the app to accompany the Visi Mobile System from Sotera Wireless, which consists of a wireless vital signs monitor. The system records such data as heart/pulse rate, blood pressure, skin temperature, respiratory rate, and ECG. The system is designed to help clinicians detect the early signs of patient deterioration, allowing early intervention for better therapeutic outcomes.
Medgadget had the opportunity to ask Artem Petrov, CEO of Reinvently, some questions about healthcare monitoring technology.
Conn Hastings, Medgadget: How did Reinvently get interested and involved in the healthcare space?
Artem Petrov, Reinvently: We didn't set out to conquer healthcare. We have been developing business applications since the first app stores appeared in 2008, so expanding into mHealth was a natural progression. When our team considers the disparity in quality and tech across healthcare, they feel a sense of urgency, because they know they can do it better. Their passion came first and is the real driver of our business strategy, particularly in the healthcare space.
Medgadget: Please give us an overview of the advantages of mobile apps in recording, collating, and displaying medical data, including data collected by wearable sensors.
Artem Petrov: Medical apps and wearables have so many upsides, from making individuals more health-conscious to providing physicians with better patient data. Your doctor may check your vitals, but wearables generate a continuous stream of data. It's more personal, contextual, and able to identify patterns.
Medical devices and software can automatically alert doctors to dangers. A robot could save your life! This type of technology excels at noticing things that the human eye overlooks, from bone fractures to cancer. High-end computers can conduct a biopsy in seconds that may take a doctor a week or more to complete.
Medgadget: Please give us an overview of some of the healthcare monitoring apps developed by Reinvently to date.
Artem Petrov: We developed the Lumee Oxygen Platform from Profusa and the Visi Mobile System for Sotera Wireless. Some of our apps in this space are currently under NDA. But we have also developed Q.Care, an on-demand healthcare app for home visits by nurses. MyBreath, an app we developed for BreathResearch for education and training on chronic obstructive pulmonary disease, was selected the winner from hundreds of other apps at MIT's Solve Conference, hosted by the UN.
Medgadget: What are the most important considerations in designing such apps? How do you minimize bugs and protect patient data?
Artem Petrov: Never underestimate the importance of great design for mobile apps. Nearly all app performance metrics relate directly to the user interface (UI) and user experience (UX). If your app is not easy and intuitive to use, most people won't bother trying. Hence the 80% abandonment rates in most app categories. If the UI and UX are bad, your great feature set won't save you.
Medgadget: Do you have to work closely with regulators in developing such apps?
Artem Petrov: We have to – it's the only way we can operate within an effective, safety-oriented healthcare sphere. From FDA approval to HIPAA compliance, regulation is integral to any mHealth device.
However, these regulators typically communicate directly with our clients, so Reinvently takes an adaptive advisory approach. We're ready to assist with any queries, issues, or foreplanning that our clients need to get their approval, because a great product is useless without the appropriate regulatory passes.
We also ensure that the necessary EHR (Electronic Health Record) systems are secure and present on any mHealth product we work with. In addition to adding yet more validity to the product, it improves adoption rates and integration with other devices.
Medgadget: How do you see such systems developing in the future?
Artem Petrov: These regulation systems consume a lot of time. FDA approval processes often begin before the product is even being developed. Add in how elements can change while products shift with ongoing research, and the opportunities for frustration are both obvious and likely.
I foresee programs like the FDA's fast track system steadily encompassing mHealth rather than the current drug-centric format. It's always going to be tricky – mHealth works because of data, and it's risky to move too fast when implementing data security measures. But something needs to change, and elements such as the FDA's Pre-Cert Pilot for medical devices are already gaining ground.
Link: Reinvently…
This article was written by Conn Hastings from Medgadget and was legally licensed through the NewsCred publisher network. Please direct all licensing questions to legal@newscred.com.