About Elements
为了美好的未来,
传播支撑社会的科技
TANAKA是"贵金属"的专家,为世界提供创造"社会价值"的"制造"。
"Elements"是主要提供符合我们的业务及价值观的有关"科技"和"可持续发展"
等方面信息的网络媒体。
在急速发生范式转换的现代,我们将不断传播促进实现更加美好的"社会"和富饶"地球"的未来的启示。
Growing Market for Automotive Catalyst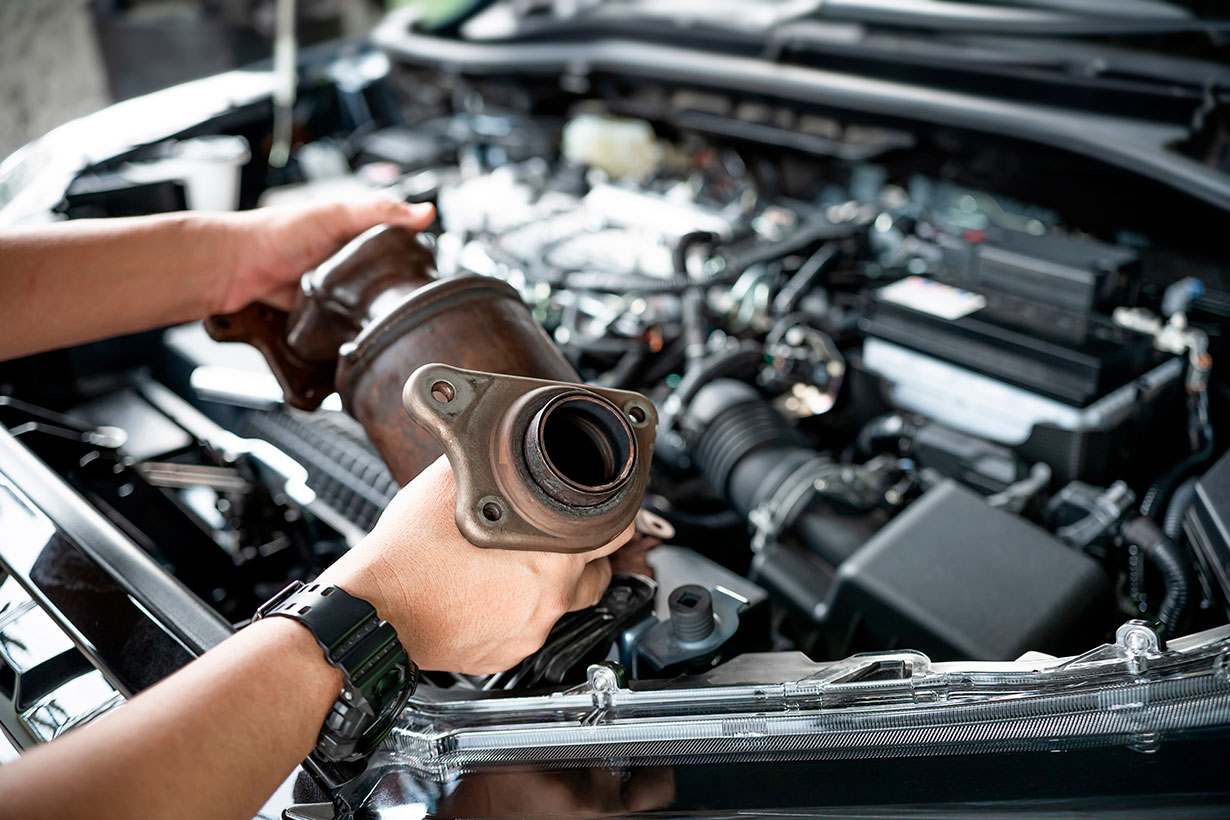 The size of the worldwide automotive catalyst market was USD 13.63 billion in 2020 and is projected to grow at a CAGR of 4.30% to reach USD 19.22 billion by 2028. Strict government rules surrounding environmental pollution and rising demand for an automotive catalyst to minimize emissions from cars are two major reasons anticipated to continue driving market revenue development.
Three harmful chemicals in car exhaust can be converted into non-toxic molecules thanks to automotive catalysts. The three harmful substances are nitrogen oxides, carbon monoxide, and hydrocarbons, which include unburned gasoline (formed when the engine heat forces nitrogen in the air to combine with oxygen). The catalyst in the converter is constructed on ceramic honeycomb or beads and is made of platinum and palladium. The converter is attached to the exhaust pipe. Carbon monoxide can be converted into carbon dioxide with the help of a catalyst. The hydrocarbons are transformed into carbon dioxide and water. The nitrogen oxide is additionally converted back into oxygen and nitrogen via this process.
Governments all around the world have vowed to tighten motor vehicle fuel and emission requirements to reduce air pollution and protect public health.
The two main uses of automotive catalysts are light-duty and heavy-duty automobiles. Typically, light-duty cars are subject to less strict emission regulations. There are particular requirements for each area. The Environmental Protection Agency is in charge of regulating emission limits in the US (EPA). The term "Euro standards" for emission regulations is used in Europe. China and India have their criteria, most of which are similar to those for vehicle emissions in Europe.
Further key findings from the report suggest
Key participants include Johnson Matthey, Umicore, BASF, Clariant, Cataler, Interakt, Cummins, CDTi Advanced Materials, and Heraeus, Tenneco.
Three-way catalytic converters had the largest revenue of any Product category in 2018, coming in at USD 5.55 billion, and the fastest CAGR of 5.2% during the projected period. The Three-way Catalytic Converters create revenue due to factors such as their greater popularity over Two-way Catalytic Converters due to their extra benefit of reducing Nitrogen Dioxide (NO2) and Nitric Oxide (NO) emission, which is not achievable with Two-way Catalytic Converters.
The government's rules for emission control and the rise in automobile production are two factors that support the expansion of the automotive market. To comply with the strict regulatory rules, automakers create vehicles with emission control technology. However, the market for automotive catalysts is hampered by the increased production and market penetration of electric vehicles. Additionally, the market's expansion is constrained by the high cost of precious metals like platinum, palladium, and rhodium utilized in automotive catalysts. Additionally, it is projected that government initiatives for pollution control in developing countries and innovation in emission technologies for fuel economy would offer the automotive catalyst market noteworthy future growth prospects.
Because of the combustion of fuels like diesel, fuel oil, gasoline, biodiesel, and others, the governments of numerous nations have enacted strict regulations for pollutant gas emissions from cars. The most recent emission standard established by a European Union mandate, known as Euro 6, aims to minimize dangerous gases from a vehicle's exhaust system, including carbon monoxide (CO), nitrogen oxide (NOx), hydrocarbons, and others. Similar to this, an emission control system called a catalyst converter, which transforms hazardous and toxic gases from engines into less damaging pollutants, uses an automobile catalyst. The catalyst complies with the requirements for automotive emissions. As a result, the market for automotive catalysts is expanding due to the government's tight pollution rules.
Product Type Outlook (Volume, Kilo Tons; Revenue, USD Billion; 2018-2028)
Two-way catalytic converter
Three-way catalytic converters
Diesel oxidation catalyst
Raw Materials Type Outlook (Volume, Kilo Tons; Revenue, USD Billion; 2018-2028)
Rhodium
Platinum
Palladium
Engine Type Outlook (Volume, Kilo Tons; Revenue, USD Billion; 2018-2028)
Application Type Outlook (Volume, Kilo Tons; Revenue, USD Billion; 2018-2028)
Heavy-Duty Vehicle
Light-Duty Vehicle
Regional Outlook (Volume, Kilo Tons; Revenue, USD Billion; 2018-2028)
North America
Europe
the Asia Pacific
MEA
Latin America
This article was written by Biswas Debanjan from TechBullion and was legally licensed through the Industry Dive Content Marketplace. Please direct all licensing questions to legal@industrydive.com.