About Elements
为了美好的未来,
传播支撑社会的科技
TANAKA是"贵金属"的专家,为世界提供创造"社会价值"的"制造"。
"Elements"是主要提供符合我们的业务及价值观的有关"科技"和"可持续发展"
等方面信息的网络媒体。
在急速发生范式转换的现代,我们将不断传播促进实现更加美好的"社会"和富饶"地球"的未来的启示。
Why E-Waste Recycling is Essential for Data Security and Environmental Protection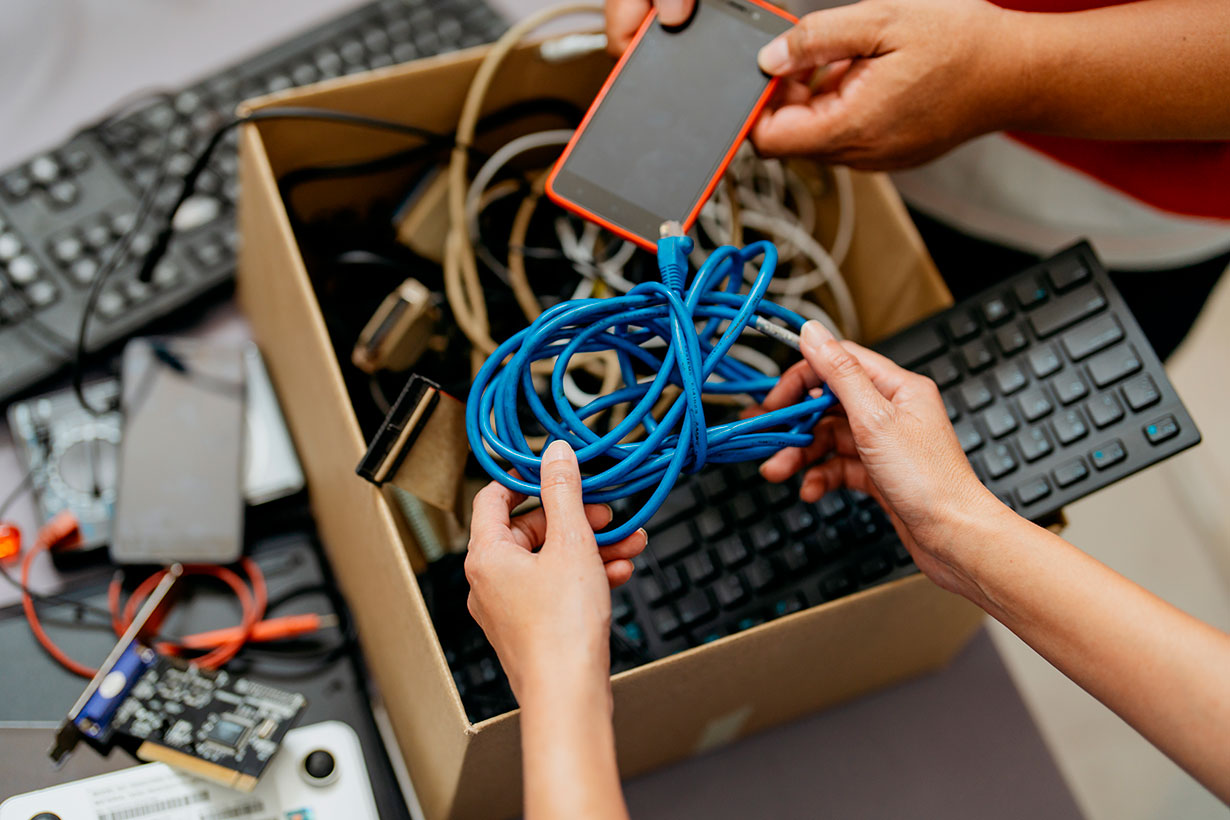 For businesses large and small, the secure disposal of electronic waste (e-waste) is extremely important. E-waste contains sensitive data that must be safeguarded against theft or misuse. Unsecured e-waste can lead to identity theft and leave organizations vulnerable to hackers and other malicious actors.
The environmental impact of the proliferation of e-waste is alarming, to say the least. It is estimated that over 57 million tons of e-waste were produced for the year 2021 alone. Finding a responsible e-waste recycler is essential for protecting data security as well as taking steps to safeguard the planet for generations to come. Experience matters, and using a recycler with over two decades of experience like East Coast Electronics Recycling (ECER Inc.) of Rocky Hill, CT is a prudent choice in ensuring you are doing the right thing.
The Importance of E-Waste Recycling
It is critical for businesses to find a trusted electronics recycler that can provide secure data destruction & proper recycling of all materials, and that stands behind their work. An e-waste recycler with an extensive experience like ECER Inc. takes the responsibility entrusted to them very seriously: they employ techniques that completely erase all traces of sensitive information from electronic devices before disposal. This includes wiping (to US Department of Defense standards) and/or physically destroying hard drives & other storage mediums and providing certificates of destruction for compliance with state & federal laws and regulations.
Businesses should ensure the e-waste recycler they choose has the experience & credentials in order to protect the environment as well as customer data. The way to determine a recycling program's effectiveness is through these measures, as well as their licensing & credentials with government-associated certifications centered around information security & responsible recycling practices.
Benefits of E-Waste Recycling
Responsible e-waste recycling has many benefits beyond data security. It reduces the amount of e-waste entering landfills, conserves natural resources and energy, and reduces greenhouse gas emissions. E-waste recycling also creates job opportunities in the recycling industry and supports a circular economy that keeps valuable materials from being wasted.
Choosing a Responsible E-Waste Recycler for Data Security and Environmental Protection
E-waste recycling (along with the Certificate of Recycling that a credible firm will provide) is essential for businesses to provide evidence that they take data security, compliance with laws and regulations, and environmental protection with the seriousness that they deserve. Credible electronics recyclers like ECER Inc. are committed to providing secure data destruction services for e-waste. They understand the importance of protecting sensitive customer information and ensure that all hard drives, storage media, and other devices are properly wiped clean or physically destroyed to ensure the privacy of sensitive information. Furthermore, they provide certificates of destruction to ensure compliance with laws and regulations and that they stand behind their work.
Ensure your data is secure throughout the recycling process
By taking the time to find a trusted e-waste recycler, businesses can ensure their sensitive data remains protected while also reducing their impact on the environment. Recyclers like ECER Inc. understand the great responsibility that comes with the work that they perform and thus go above and beyond industry standards to ensure that all hard drives, storage media, and other memory devices are either wiped or destroyed to ensure the privacy of personal information.
Organizing E-Waste Collection Events in Your Community
E-waste collection events are a great way to promote responsible e-waste recycling and prevent toxic materials from ending up in a potentially dangerous environment. Consider working with your local government, schools, businesses, or nonprofits to organize e-waste collection events in your community. This is a great opportunity for members of the community to safely dispose of their e-waste while also learning more about how recycling can protect data security and help preserve the environment.
Taking these steps can help businesses of any size become more environmentally conscious while protecting important customer data.
This article was written by Angela Scott-Briggs from TechBullion and was legally licensed through the Industry Dive Content Marketplace. Please direct all licensing questions to legal@industrydive.com.