About Elements
为了美好的未来,
传播支撑社会的科技
TANAKA是"贵金属"的专家,为世界提供创造"社会价值"的"制造"。
"Elements"是主要提供符合我们的业务及价值观的有关"科技"和"可持续发展"
等方面信息的网络媒体。
在急速发生范式转换的现代,我们将不断传播促进实现更加美好的"社会"和富饶"地球"的未来的启示。
This magnetic robot could worm its way into human blood vessels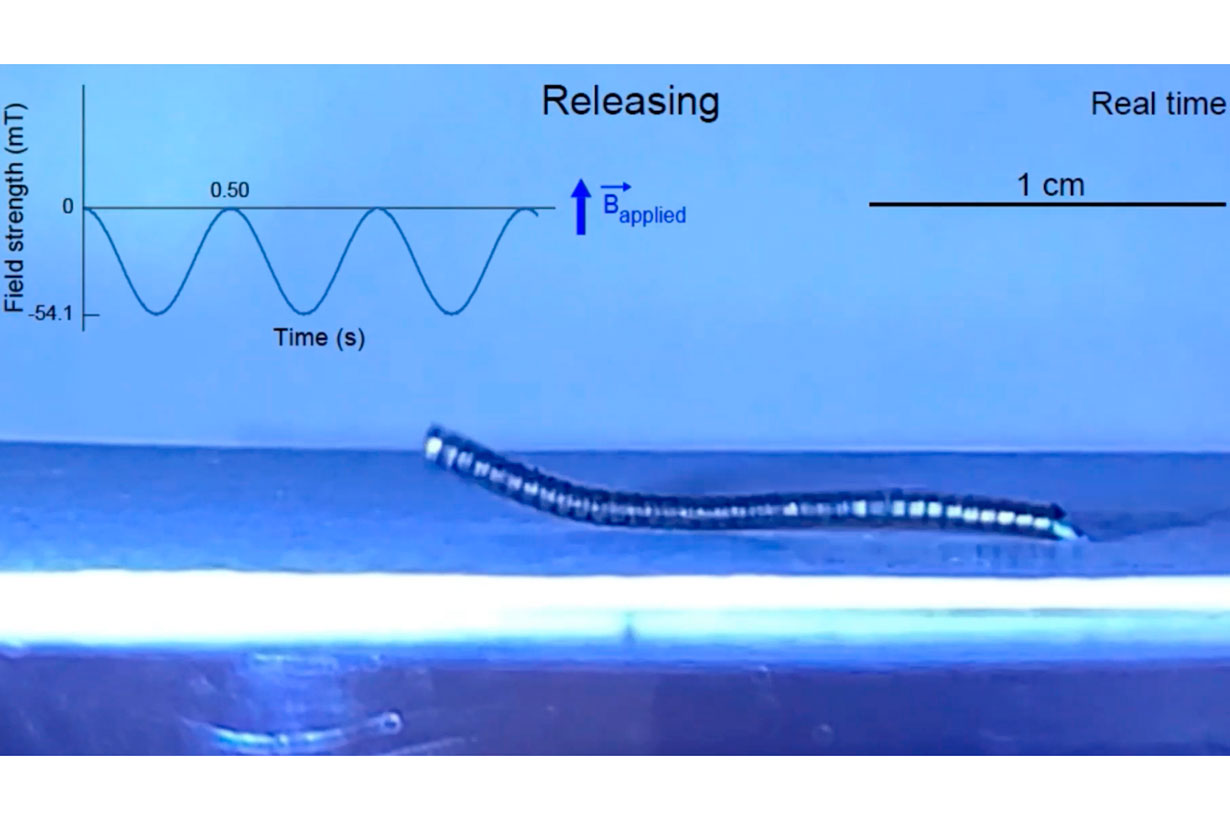 Magnetic strategic portions of this soft robot allows it to move in three dimensions.
Image Credit: MIT / Ankeeva et al
Researchers at MIT have created a tiny, cucumber-inspired soft robot capable of scooting around otherwise hard-to-reach, three-dimensional environments using a single, weak magnetic field. As first detailed last month in an open access paper published with Advanced Materials, an inchworm-like mechanism made from strategically magnetized rubber polymer spirals shows immense promise in maneuvering through spaces as tiny as human blood vessels.
[Related: Seals provided inspiration for a new waddling robot.]
Before this newest wormbot, locomotive soft bots required moving magnetic fields to control their direction and angle. "[I]f you want your robot to walk, your magnet walks with it. If you want it to rotate, you rotate your magnet," Polina Ankeeva, the paper's lead author and a professor of materials science and engineering and brain and cognitive sciences, said in a statement. "If you are trying to operate in a really constrained environment, a moving magnet may not be the safest solution," Ankeeva added. "You want to be able to have a stationary instrument that just applies [a] magnetic field to the whole sample."
As such, the MIT research team's new design isn't uniformly magnetized like many other soft robots. By only magnetizing select areas and directions, just one magnetic field can create "a movement-driving profile of magnetic forces," according to MIT's announcement.
Interestingly, engineers turned to cucumber vines' coiled tendrils for inspiration: Two types of rubber are first layered atop one another before being heated and stretched into a thin fiber. As the new thread cools, one rubber contracts while the other retains its form to create a tightly wound spiral, much like a cucumber plant's thin vines wrapping around nearby structures. Finally, a magnetizable material is threaded through the polymer spiral, then strategically magnetized to allow for a host of movement and directional options.
Because of each robot's customizable magnetic patterns, multiple soft bots can be individually mapped to move in different directions when both exposed to a single, uniform weak magnetic field. Additionally, a subtle field manipulation allows the robots to vibrate—thus allowing the tiny worms to carry cargo to a designated location, then shake it off to deliver a payload. Because of their soft materials and relatively simple manipulation, researchers believe such mechanisms could be used in biomedical situations, such as inching through human blood vessels to deliver a drug at a precise location.
This article was written by Andrew Paul from Popular Science and was legally licensed through the Industry Dive Content Marketplace. Please direct all licensing questions to legal@industrydive.com.