About Elements
为了美好的未来,
传播支撑社会的科技
TANAKA是"贵金属"的专家,为世界提供创造"社会价值"的"制造"。
"Elements"是主要提供符合我们的业务及价值观的有关"科技"和"可持续发展"
等方面信息的网络媒体。
在急速发生范式转换的现代,我们将不断传播促进实现更加美好的"社会"和富饶"地球"的未来的启示。
Circular economy of precious metals realized by the RE Series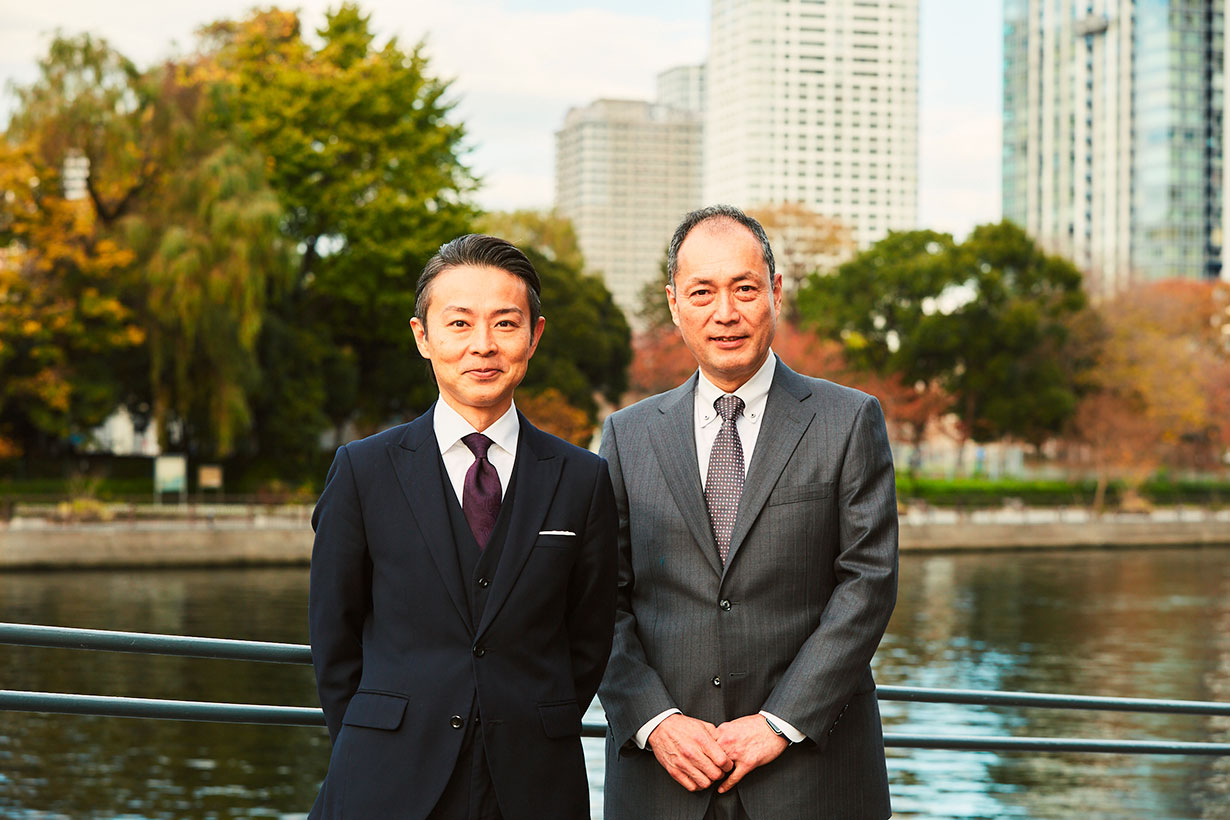 TANAKA Kikinzoku Kogyo K.K., which operates the manufacturing business of the TANAKA Precious Metals, announced in May 2022 the launch of its RE Series of recycled precious metal materials, which do not contain any mine-derived bullion and use only 100% recycled materials. The RE Series is a series of products that reduces adverse effects on the global environment, overcomes resource depletion, contributes to the stable supply of precious metals to companies that use them in a variety of applications, and further contributes to the realization of a circular economy.
We interviewed Noriaki Hara, General Manager of the Development and Sales Department of the Sales Management Division, and Kentaro Hiruma, Chief Manager, about how the RE Series was born and how it differs from the recycled precious metals of the past.
The RE Series to promote sustainable use of precious metals
In Japan, the Home Appliance Recycling Law came into effect in 2001. Outside of Japan, the European Union adopted the CE Package (CE = Circular Economy) in 2015, which sets a policy to use recyclable resources within the region. Neighboring country China is also promoting recycling as a policy, as well as a rapid shift in its industrial model.
Hara: "When considering the balance of supply and demand in society, extracting natural resources from mines is of course essential. On the other hand, the recycling of precious metals is very important to reduce the consumption of natural resources and to use limited resources sustainably from the perspective of global environmental protection."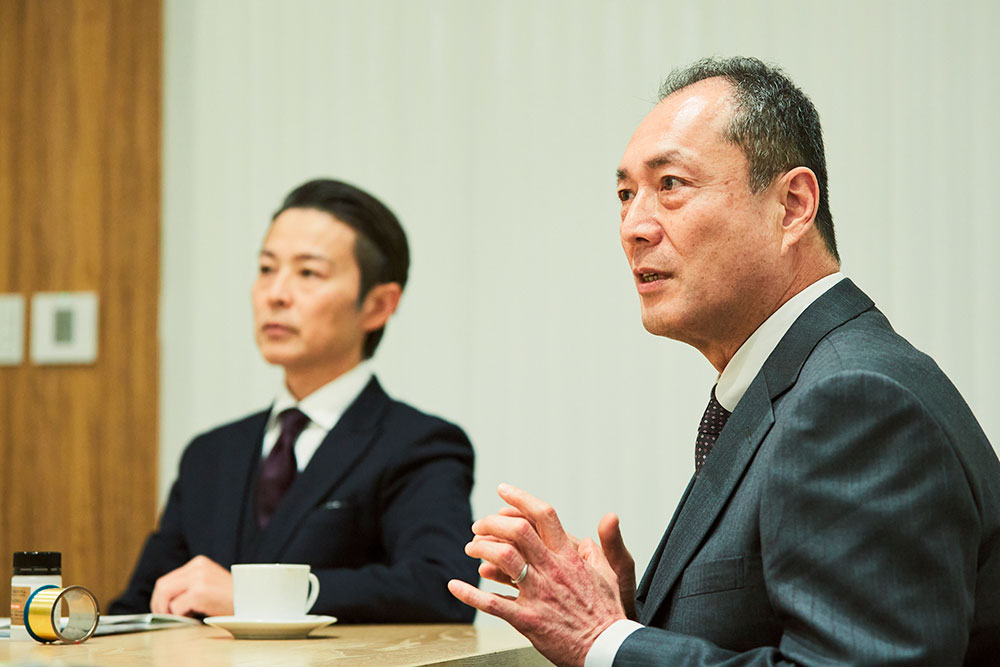 ▲ [Right] Noriaki Hara, General Manager, Business Development, Global Sales Administration Department, TANAKA Kikinzoku Kogyo K.K.
RE Series products, newly developed by the TANAKA Precious Metals to reduce environmental impact and achieve sustainable and efficient use of precious metals by reducing the mining of new precious metals. While TANAKA Precious Metals has been promoting the recycling of precious metals to reduce the environmental impact of mineral resources, the new RE Series is made of 100% recycled precious metals. By using the RE Series in product manufacturing, companies can reduce their impact on the global environment and contribute to the realization of a circular economy. The true value of the RE Series is to realize well-being for the earth and society through recycled precious metals.
Dedicated manufacturing and control lines have been established to provide recycled precious metals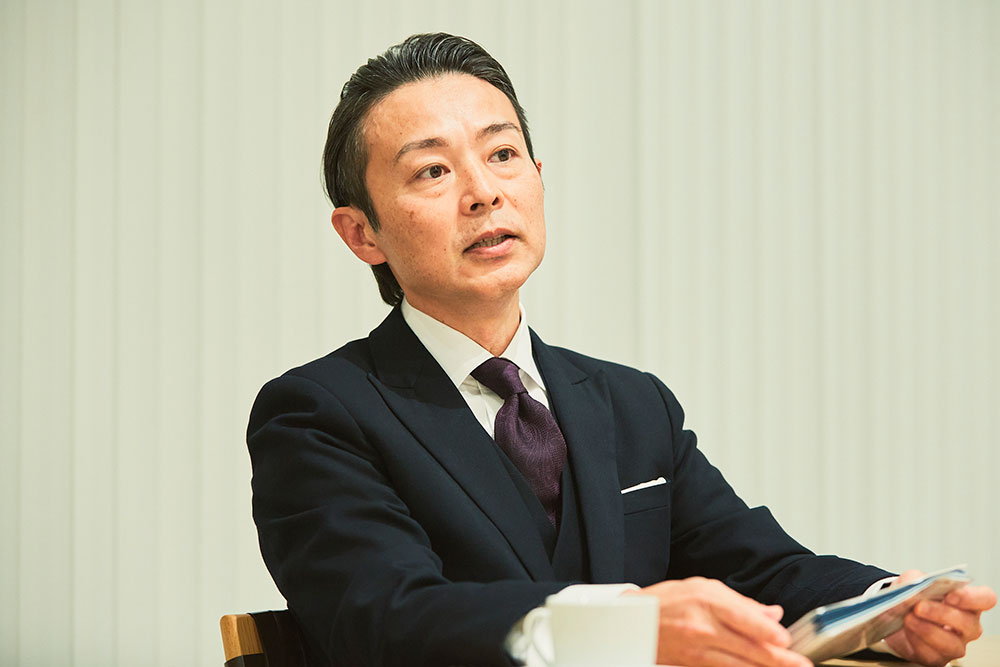 ▲ Kentaro Hiruma, Section Chief Manager, Business Development, Global Sales Administration Department, TANAKA Kikinzoku Kogyo K.K.
Precious metals such as gold, silver and platinum are essential for manufacturing electronic device products. TANAKA Kikinzoku has been attempting to reduce the environmental impact by extracting these precious metals from discarded products (urban mines) and recycling them to reduce the amount of mining.
The supply of the RE Series is based on the recycling flow that TANAKA Kikinzoku has established with its customers since the company's founding. Conventionally, refined precious metals consisting of recycled materials and new precious metals consisting of ingots, coins, etc. are commercialized in the product manufacturing process and supplied to companies. The companies then utilize these materials to supply products to the market. When the products that were created are discarded, they are collected and refined by TANAKA Kikinzoku and processed into products again. The RE Series is characterized by using this recycling flow and constructing a unique manufacturing flow for 100% recycled precious metals.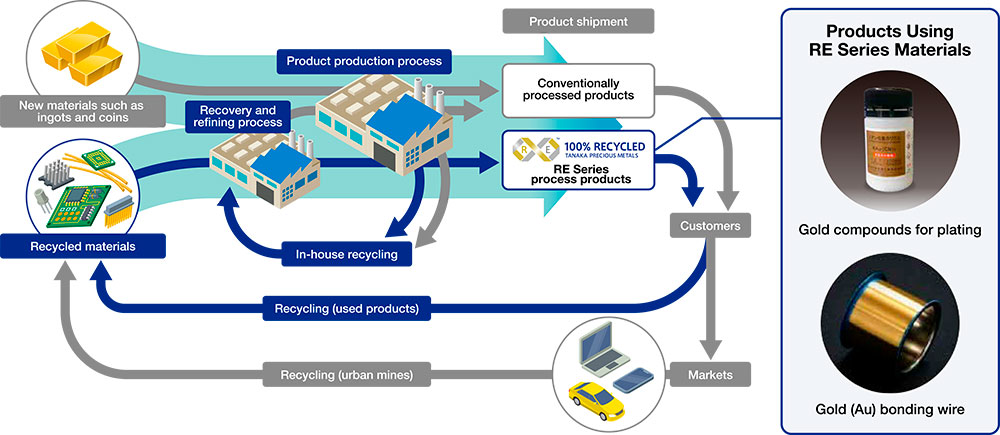 ▲ Product Manufacturing Flow Using Recycled Material
Hiruma: "TANAKA Kikinzoku has been in the precious metal recycling business since its founding. The RE Series will expand the manufacturing line to offer products made exclusively from 100% recycled precious metal materials."
TANAKA Kikinzoku, together with its customers, has been building a flow to effectively utilize urban mines, which are composed of precious metals contained in discarded products, in society. In other words, TANAKA Kikinzoku has been practicing the circular economy with its customers using precious metals ever since its founding. The RE Series is the culmination of this recycling process.
The first phase is developing gold compounds for plating (PGC-RE), which are most in demand in the semiconductor industry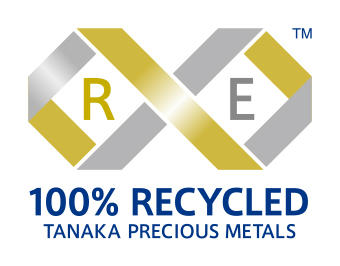 ▲ The concept of the logo is "limitless weaving." The infinity symbol ∞, which is used to represent recycling, limitlessness and continuity, incorporates the concept of the RE Series that "weaving means creating something new by combining various things."
How was the newly announced RE Series developed?
Hiruma: "In recent years, companies have been required to respond to the formation of a recycling-oriented society, carbon neutrality, SDGs and ESGs, etc., as a major global trend. The same is true in the precious metals market, and we have started supplying the RE Series in response to the needs of our customers and the responsibility of companies involved in the industry."
The first product in the RE Series was selected as gold compound for plating (PGC-RE), which is used in semiconductors and electronic devices and is in high demand from consumer goods manufacturers. Currently, TANAKA Kikinzoku makes individual proposals for utilizing recycled precious metals based on customer requests, but in the future it plans to develop schemes and products that are versatile enough for each industry. More specifically, the medical and jewelry industries have been mentioned.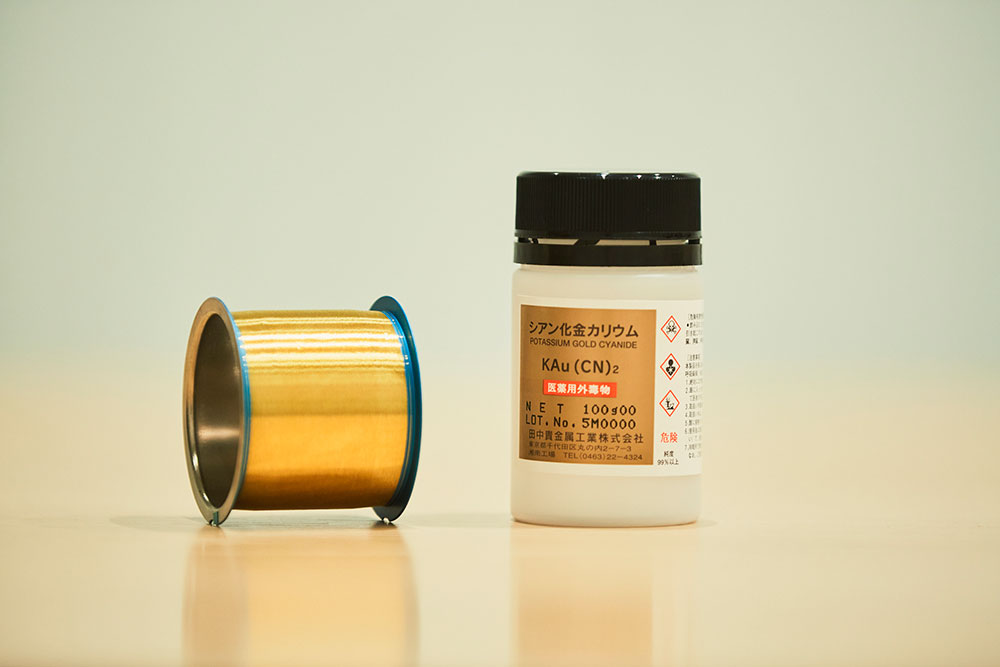 ▲ [From left] Gold (Au) bonding wire and gold compound for plating.
* Empty containers were used during the photo shoot. Products are strictly controlled
Circular economy realized by the RE Series
If the supply of recycled precious metals increases in the future, they will be more widely recognized as recyclable resources, and at the same time, recycled precious metals will be used more commonly in society. How does TANAKA Kikinzoku see the future?
Hiruma: "We have been involved in recycling precious metals since our founding in 1885. The RE Series is made on an independent production and control line exclusively for recycled precious metals. This allows us to deliver 100% recycled precious metal materials to our customers. We believe that using the RE Series will reduce environmental impact and further boost TANAKA Kikinzoku's social value, while at the same time spreading social awareness of recycled precious metals and helping to create a circular economy."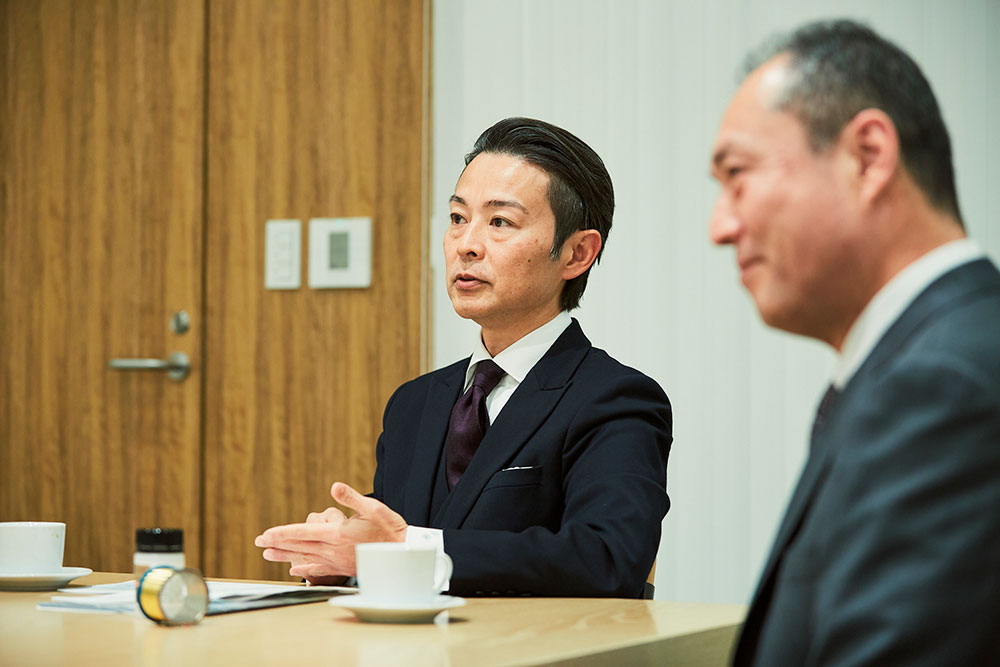 Currently, the recycling rate of gold and platinum group metals in Japan is 30%, and TANAKA Kikinzoku has set a long-term numerical objective of raising this rate to around 50%.
A society in which materials made entirely of recycled precious metals such as the RE series are used as a matter of course is the kind of circular economy that TANAKA Kikinzoku hopes to realize from precious metals. Future expansion of the RE Series will seek to further contribute to the realization of a circular economy that has less impact on the environment and is more sustainable for the next generation of the earth.
One-stop precious metal recycling platform for collection, refining and delivery
For companies to effectively utilize recycled precious metals, there must be more than simply a reduction in environmental impact; there must also be business benefits. TANAKA Kikinzoku has established a one-stop collection and refining flow within the company and has turned this into a business advantage. When developing new products and services for companies, recycling was proposed to simultaneously reduce costs as well as environmental impact.
Hara: "Until the early 1990s, it was not uncommon for end users to dispose of waste containing precious metals as is. This was a waste in terms of both resources and cost, so after explaining this to our customers, we would take back the materials from end users and recycle them into materials for their products. As our predecessors created this scheme, TANAKA Kikinzoku's recycling business grew exponentially."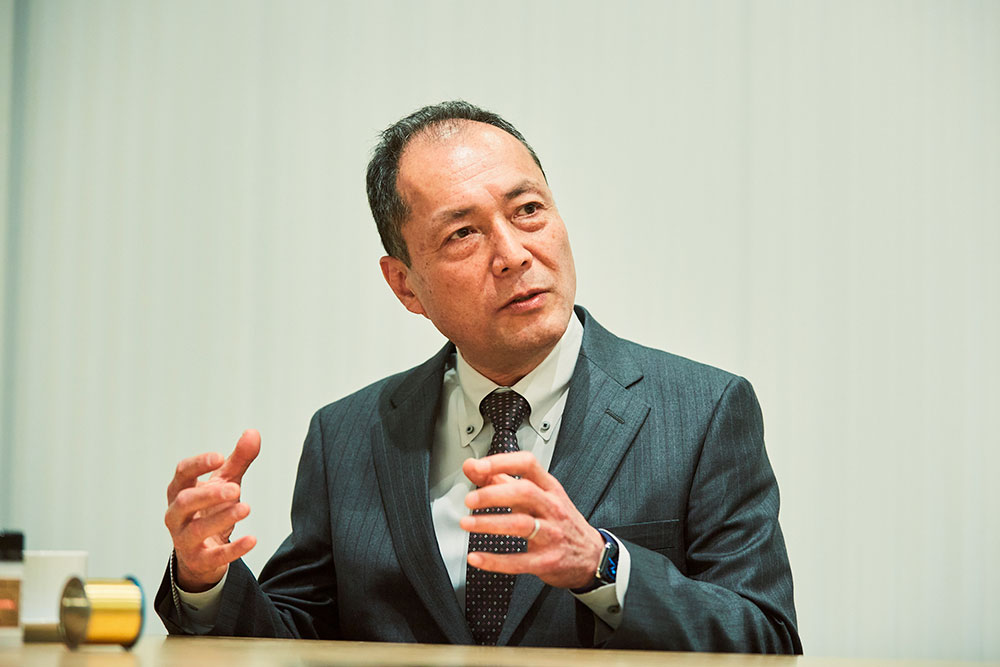 Hiruma: "When we do business with our customers, we propose that we collect the waste materials from customers' manufacturing processes, make recycled precious metals from them in our flow, and supplement them with the precious metal materials needed for the next order from the customer. This reduces the environmental impact and the cost of purchase for our customers."
Furthermore, by using TANAKA Kikinzoku's recycled precious metals, it is possible to avoid the price fluctuation risk that occurs when precious metals are recycled from scrap materials and bought and sold on the trading market.
Hiruma: "Customers who collect and refine precious metals from scrap metal through a collection company and sell them for cash, and then order more products from another company, are faced with significant price fluctuation risks when buying and selling precious metals. We are a one-stop shop for the sale of precious metal products as well as the collection and refining of precious metals, and we can hedge (avoid) the risk of fluctuating prices by replenishing the ordered product with the same weight of precious metal recovered and refined from the scrap material. Our customers benefit from the fact that they do not have to purchase all the precious metals they need new and can greatly reduce their purchasing costs."
The higher the recycling rate, the lower the environmental impact on society, and the lower the costs for the customers, creating a circular economy in a win-win relationship.
Recycled precious metals are now essential to industry
A representative effort in the precious metals recycling business is Nippon PGM, which began operations in 1991 as a joint venture between TANAKA Kikinzoku, Dowa Metals & Mining, and Kosaka Smelting & Refining. Nippon PGM promotes recycling of platinum group precious metals.
Hara: "Around the 1970s, acid rain was an environmental problem. Toxic gases emitted mainly from cars were carried into the sky and fell as rain, resulting in acid rain that destroyed forests and melted marble statues. As a countermeasure, three precious metals of the platinum group, platinum, palladium and rhodium were adopted as catalysts to purify automobile exhaust gases. This eliminated the generation of toxic gases and solved the problem of acid rain on a global scale. These catalysts use only 3-5 grams per car, depending on the size of the car. However, considering the number of cars made around the world, the amount of platinum reaches about 100 tons per year. Nippon PGM is the recycling company for these platinum group precious metals."
Currently, 100 tons of platinum is used in exhaust gas purification catalysts worldwide every year, of which about half, or 50 tons, is generated through recycling. If there were no recycled precious metals and 50 tons more had to be extracted from mines each year than is currently available, not only would the environment be adversely impacted, but prices would inevitably rise, and the industry would stagnate. Recycled precious metals are now a vital material in industry.
Hiruma: "The value of utilizing recyclable resources such as recycled precious metals will become common not only in Japan but in the entire world. Our recycling plants are located throughout Japan, and our collection trucks travel throughout the country to establish a network for collection. We also have operations in China and Taiwan, and in 2016 we partnered with a local company in Switzerland to create a global collection and refining network."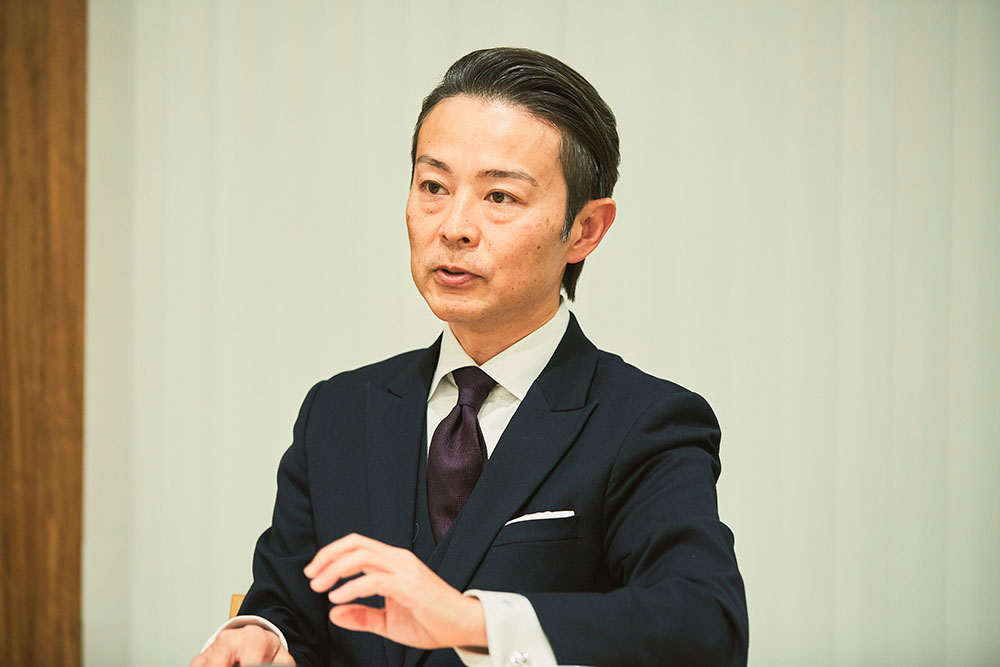 Furthermore, TANAKA Kikinzoku was the first company to receive the London Bullion Market Association (LBMA) and London Platinum & Palladium Market (LPPM) Responsible Certification, the most prestigious accreditation bodies in the world gold and silver markets. TANAKA Kikinzoku is not only the first company in Japan to be recognized as a provider of precious metals for worldwide distribution, but it is also currently able to create a global standard for precious metals as the only authorized examination company in Japan. This ensures responsible raw material procurement that does not contribute to child labor, forced labor, environmental destruction, or conflicts related to mining. In recycling, TANAKA Kikinzoku will screen its suppliers and will not engage in procurement related to money laundering or illicit transactions.
Hiruma: "Reclaiming recycled materials of proven origin maximizes added value for our customers and helps solve the global issues of precious metals."
Recycled precious metals support a variety of industries, have a positive impact, and solve global issues. It is a vital solution for the future of industry and a sustainable global environment.

■Related Information
https://tanaka-preciousmetals.com/en/sustainable/
https://tanaka-preciousmetals.com/en/about/feature/feature03/